The Driver's Guide to Automotive Maintenance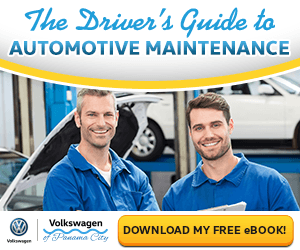 Staying up to date with routine maintenance is key to enjoying long-lasting performance from your Volkswagen. The good news is that by following a few simple guidelines, keeping your vehicle in great shape is easy to do.
To help make sure you never miss a service milestone, the team at VW of Panama City Service Center is here to help. Download our FREE eBook, The Driver's Guide to Automotive Maintenance. In this short guide, you'll find professional advice showing you how to get the most miles from your vehicle. A few topics we'll cover include:
Visual inspections
Proper tire maintenance
Oil and filter changes
Engine and battery service
Additionally, you'll also receive exclusive offers you can redeem at our service center.
To receive your free eBook guide, simply complete the form on this page. If you'd like to schedule a service appointment, stop by our convenient location. You're also welcome to schedule over the phone or online through our site.