Oil Change near Me

For decades, our highly skilled team of technicians have been providing speedy and dependable service for drivers throughout Panama City, Callaway, and Springfield. This includes performing routine maintenance like oil and filter changes.
So, If you recently found yourself wondering, "Where can I find an oil change near Panama City?" we hope you'll consider paying a visit to the Volkswagen of Panama City Service Center.
How Often Should You Change Your Oil?
Signs Your Car Needs an Oil Change
How Often Do I Need to Change My Oil?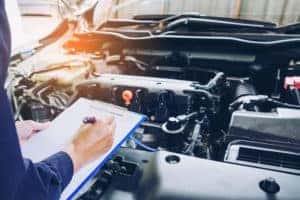 To maintain your vehicle's performance and efficiency standards, it's recommended you change your oil every 5,000 – 10,000 miles. This range will fluctuate depending on the type of vehicle you drive, its age along with your driving habits. For instance, a pickup with over 100,000 miles will most likely need to have its oil changed more frequently than a brand-new compact sedan.
For expert advice, our friendly and knowledgeable team of service pros can design a maintenance schedule which best suit's your vehicle's specific needs and even send you reminders about upcoming appointments.
Oil Change Specials Near Me
Throughout the year, our service center provides oil change specials to encourage good habits and make keeping up with routine maintenance easier. To take advantage of our special offers, simply visit our service center page to download and print a limited-time coupon.  A typical oil change special includes:
Full synthetic oil up to 5 quarts
New oil filter
Complimentary multipoint inspection
Tire pressure and fluid level check
What's the Importance of a Routine Oil Change?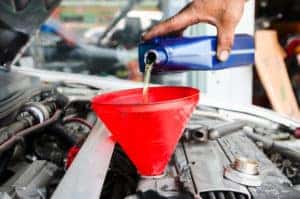 In many ways, your engine is the beating heart of your vehicle. Inside your engine exists thousands of intricate metal components, all moving at an incredibly high rate of speed. Motor oil is used to lubricate these metal pieces, keeping them from overheating while removing any dangerous particles from getting trapped inside.
Prolonged exposure to things like heat, oxygen, and moisture will slowly begin to oxidize your oil, turning into a heavy dark sludge. If not routinely replaced, this sludge can lead to several potentially serious issues including poor fuel efficiency, premature wear, and overheating.
Changing your oil on a regular basis is one of the simplest ways to protect your engine and guarantee sustained performance for year of travel ahead.
Schedule a Panama City Oil Change Today!
If you can't remember the last time you changed your vehicle's oil, it's safe to assume you're probably due for an appointment. Not to worry, the service center at VW of Panama City is ready and waiting to help.
If you're a driver living near Panama City, Callaway or Springfield, call, stop by or go online to schedule a service appointment today!